We welcome people from all walks of life to join us in our mission to make affordable housing a reality for hard-working families in our community.
Your loving and generous donation will help local, hard-working families achieve their dream of a decent, affordable place to call home.
Are you dreaming of a safe, affordable place to call your very own? Those dreams can come true. Learn more about how we can partner with you.
Homes built and preserved in East Central Ohio so far.
Over twenty-five years ago, our affiliate began with a small group of dedicated volunteers and their desire to eliminate poverty housing in our community. Today, we have served nearly 500 families, and have changed the face of many neighborhoods. Through the years we have maintained our unrelenting determination to end poverty housing by offering a hand up, not a hand out. But it takes all of us. None of what has been accomplished so far would have been possible without the support we have received from our generous donors and devoted volunteers. We are so thankful for every dollar donated, every ReStore donation and purchase and every hour of time given. As we look to the future, we remain excited about the opportunity to be a blessing to our partner families, to work tirelessly with volunteers and to continue transforming the communities we serve in East Central Ohio.
Investing Locally
Since 1988, we have helped nearly 500 families achieve the dream of becoming homeowners. Over 2,000 individuals live in the homes built and renovated by Habitat for Humanity volunteers and future homeowners in East Central Ohio. Approximately 1,700 of these individuals are children.
Investing Globally
In 2006, we were honored to become only the seventh affiliate out of 1,700 to reach the $1 million mark in tithing. Ten percent of our unrestricted donations go toward building houses in Ghana, West Africa and Central America.
Considering Impact
Since our first Habitat for Humanity ReStore opened in Canton in 2005, over 3,000 tons of reusable materials have been diverted from landfills through merchandise sales and recycling. Now that we've opened our second ReStore in Canton, there are more opportunities to donate, shop, and save items from landfills.
Giving Our All
Habitat for Humanity East Central Ohio is a leader among U.S. Habitat for Humanity affiliates. We rank as the #1 affiliate in Ohio. Since 1995, we've remained in the top thirty Habitat for Humanity affiliates in the nation.
At Habitat for Humanity East Central Ohio, we're developing new and innovative ways to break the cycle of poverty.
Habitat for Humanity East Central Ohio received national recognition as Habitat for Humanity International presented our affiliate with the Clarence E. Jordan Award, naming us "Pioneers of Excellence" for the creativity and innovation of our Homeowner Maintenance Education (HOME) program. HOME teaches partner families the basic home maintenance and repair skills they will need once they purchase their own home. This instruction is made possible through tangible, hands-on learning with five life-sized modules at our Raff Road campus. We are grateful for this special recognition and remain challenged and humbled by the opportunity to continue forging new ways of investing in decent, affordable shelter for all people. In this photo: Courtney Brown, Family Partnership Director (Left) and Beth Lechner, Executive Director (Center), receiving the Clarence E. Jordan Award from Habitat for Humanity CEO Jonathan Reckford (Right).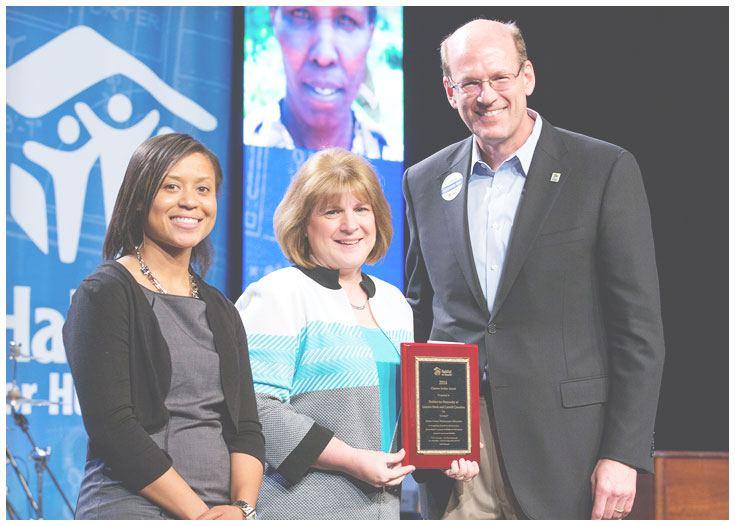 Stay active and build with Habitat for Humanity at the 2016 Union Hospital Run for Home.
It time to warm up those running shoes for the 2016 Union Hospital Run for Home on April 9-10! Sprint over to the Run for Home website or Facebook page to learn more and register for this special community fitness festival in Tuscarawas County. Proceeds will help build a home with a Tuscarawas County family in need of a safe, decent, affordable home!
Knowing that this house is mine and I'll be here permanently means so much to me. It means long-term stability for my family.
Catherine
I couldn't believe that people would come and help a person they didn't know. Habitat is a huge blessing.
Jesse
It's such an honor to have been able to go through this program. The friends we have made and the wonderful people we have met have been a blessing.
Jennifer
Habitat is partnership – partnership between Habitat and families needing homes; partnership between Habitat and volunteers; partnership between volunteers and families; partnership among the volunteers themselves.
Carol
This house means everything to us. We are having dinner for our extended family at our new house. It is the first time I have been able to have everyone together at my home.
Sadye
I love my home because all my family and friends love to visit. I love my home because it's cozy, relaxing, and comfortable. I am VERY blessed.
Vanessa
This program has helped me realize that I can do things on my own that I didn't know I could do.
Jasmine
Make a Difference at Habitat
There are many ways you can be involved in helping to eliminate poverty housing with Habitat for Humanity East Central Ohio. Whatever your passion, experience, or skill-set, there is an opportunity for you here.
Get Started
Favorite Non-Profit
About Magazine Local Faves 2015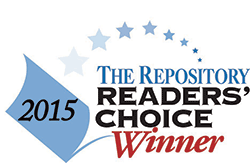 Favorite Non-Profit
The Canton Repository Readers' Choice Awards 2014 and 2015
Favorite Volunteer Opportunity
About Magazine Local Faves 2015
Being named Favorite Non-Profit in The Canton Repository's Readers' Choice Awards and favorite Non-Profit and Favorite Volunteer Opportunity in About Magazine's Local Faves speaks volumes about the dedication of Habitat volunteers, the generosity of each donor, and the investment each partner family makes to achieve their dream of homeownership. We offer our sincere thanks to you – a community helping to offer families a hand up, not a hand out. Learn more about how you can be a part of the story with Habitat for Humanity.