Habitat is the 2016 Brand of the Year
results from the 2016 Harris Poll EquiTrend® Equity Study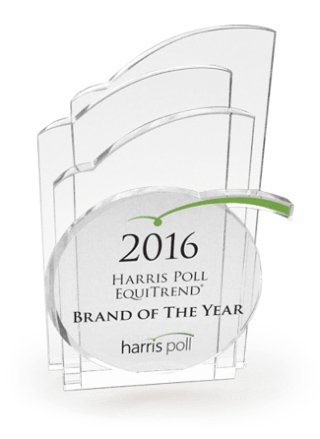 Habitat for Humanity named 'Brand of the Year' in Social Services Nonprofit category based on the 2016 Harris Poll EquiTrend® Study
CANTON, OH (April 21, 2016) – Habitat for Humanity has been named "Brand of the Year" in the social services nonprofit category based on the 2016 Harris Poll EquiTrend® Equity Score. This is the second consecutive year the global nonprofit has been recognized for its strength in brand equity.
In addition, Habitat for Humanity earned the distinction of being named the "Most Loved" and "Most Trusted" brand within its category this year.
"We work diligently to be an organization that is worthy of the love and trust of this community," said Beth Lechner, Executive Director of Habitat for Humanity East Central Ohio, "and we believe that this honor also speaks volumes about the caring, enthusiastic people who invest their time and financial resources in this ministry. We are proud and grateful to have the opportunity to bring passionate people together to help homeowners achieve the strength, stability, and self-reliance they need to build a better life for themselves and their families."
For nearly 30 years, Habitat for Humanity East Central Ohio has partnered with local families to build strength, stability and self-reliance through shelter. Through new construction, home rehabilitation, critical home repair, and A Brush With Kindness (minor home repair), more than 2,000 individuals have gained access to safe, decent and affordable housing.
The Harris Poll EquiTrend Study is an annual survey that measures the brand equity of for-profit and nonprofit organizations in the U.S., ranking them on three key factors: familiarity, quality and consideration.
"It is truly a blessing for Habitat to be honored by the public in this way for a second year in a row," said Jonathan Reckford, CEO of Habitat for Humanity International. "Every donation and helping hand Habitat has received over the years made it possible for us to help millions of homeowners worldwide create a place to call home for themselves and their families."
Habitat for Humanity received the highest numerical Equity Score and the highest numerical score relating to Trust and Love among social service nonprofit brands included in the 2016 Harris Poll EquiTrend® Study, which is based on opinions of 97,120 U.S. consumers ages 15 and over surveyed online between Dec. 22, 2015 and Feb. 1, 2016. Your opinion may differ. "Highest Ranked" was determined by a pure ranking of a sample of social service nonprofit brands.
To learn more about the Harris Poll EquiTrend® Study, visit theharrispoll.com.