Join the Habitat Crew and your time will change lives.
Habitat Crew volunteers help families build their own bright futures. Whether you're a master carpenter or have never used a hammer, a serving heart is all that's required.
The Habitat Crew is a group of men and women who regularly volunteer and invest their time with Habitat for Humanity. The Habitat Crew helps families and children discover the many benefits of decent, affordable housing. Whether you're a master carpenter or have never picked up a hammer, a serving heart is all that is required. Opportunities are regularly available on Thursdays and Saturdays. Work us into your schedule twice a week or once a month – whatever works for you!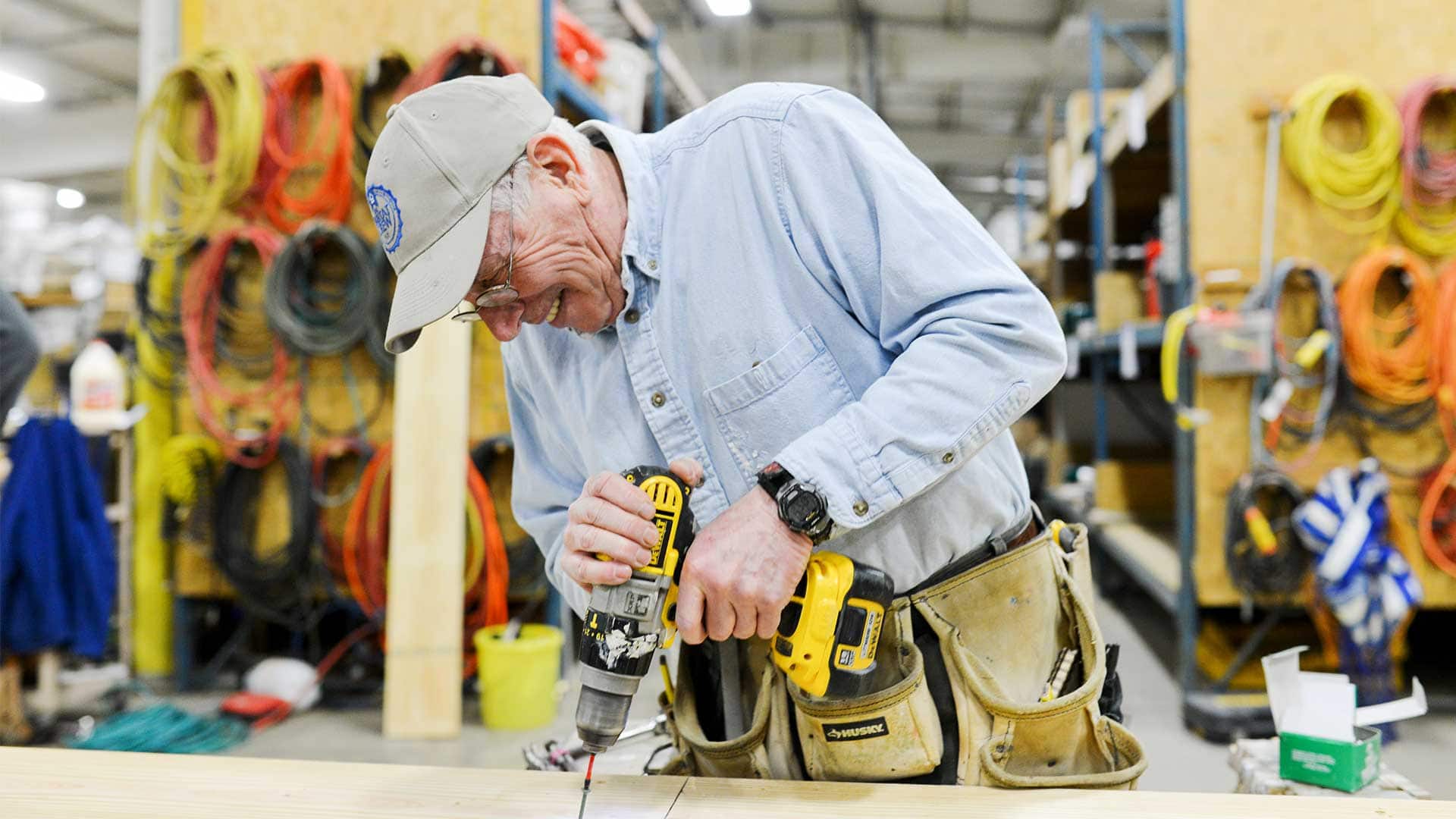 We build more than houses.
At Habitat for Humanity East Central Ohio, we're driven by the vision that everyone deserves a decent place to live. Since 1988, we have seen decent, affordable housing help families build the strength, stability, and self-reliance we all need.
At Habitat for Humanity, we bring people together to offer families a hand up, not a hand out. As an independent, non-profit, Christian housing ministry, we provide hard-working families and individuals the opportunity to purchase their own homes with an affordable zero-interest mortgage. To us and millions of people around the world, there is no better expression of faith and love than to help people with limited income build their own futures.
Help with Construction
Habitat for Humanity builds new homes and renovates existing structures. On-site projects range from framing to trim. Form groups, choose special projects, develop your skills, help make a house a home, and even discover a new passion!
Build in Our Workshop
Everything from painting, to building entire sheds, to fine woodworking happens in the Fred F. Silk Workshop at our Raff Road facilities. There are tools galore, and the entire space takes advantage of the dust collection system.
Lend a Hand at ReStore
Love to repurpose and give old items new life? Habitat Crew members repair donated items, build new merchandise from recycled materials, or even help improve store operations at our Canton, Ohio
Habitat for Humanity ReStore
.
volunteer hours donated each year
We welcome people from all walks of life to help make affordable housing a reality for hard-working families in East Central Ohio. Whatever your experience, stage of life, skill-set, or passion, there is a place for you.
of a construction budget typically pays labor costs
But, you can help keep costs down so we can build more homes. By utilizing the talents of our local volunteers, including The Habitat Crew, we're able to dramatically improve access to safe, decent, affordable housing.
Why be a part of
The Habitat Crew?
When you become a Habitat Crew volunteer, you'll have the opportunity to work side-by-side with hard-working local families in need. While you're investing in others, you might just find that joining The Habitat Crew will be good for you!
Be part of a healthy, strong community.
As a part of The Habitat Crew, you can expect to be around some of the most faithful, caring, kind, and compassionate volunteers out there. And, while we are a Christian organization, Habitat for Humanity welcomes people of all beliefs and backgrounds. The love found in our community is the glue that binds us.
You'll stay connected and informed.
Being part of The Habitat Crew is being part of a family, and we strive to create a strong sense of community. Email newsletters highlight Crew members, volunteer opportunities, devotionals, and upcoming events. Events such as Crew get-togethers, safety meetings, and appreciation dinners help maintain that connection.
You can cultivate your care for others.
What brings us together at the end of the day is the call to offer hard-working families a hand up, not a hand out. To be successful, we need donors, community members, staff, and definitely volunteers! The Habitat Crew is absolutely vital to the continuation of Habitat's mission to build homes, communities and hope here in east central Ohio.
Would you like more information? Are you ready to join?