Volunteers are the heart of Habitat for Humanity.
At Habitat for Humanity East Central Ohio, we build—but, swinging a hammer is not a requirement for volunteering. We welcome people from all walks of life to join us in our mission to make affordable housing a reality for hard-working families in east central Ohio. Whatever your experience, stage of life, skill-set, or passion, there is a place for you here.
To volunteer with Habitat for Humanity East Central Ohio, please take a moment to help us get to know you. Complete our volunteer application today.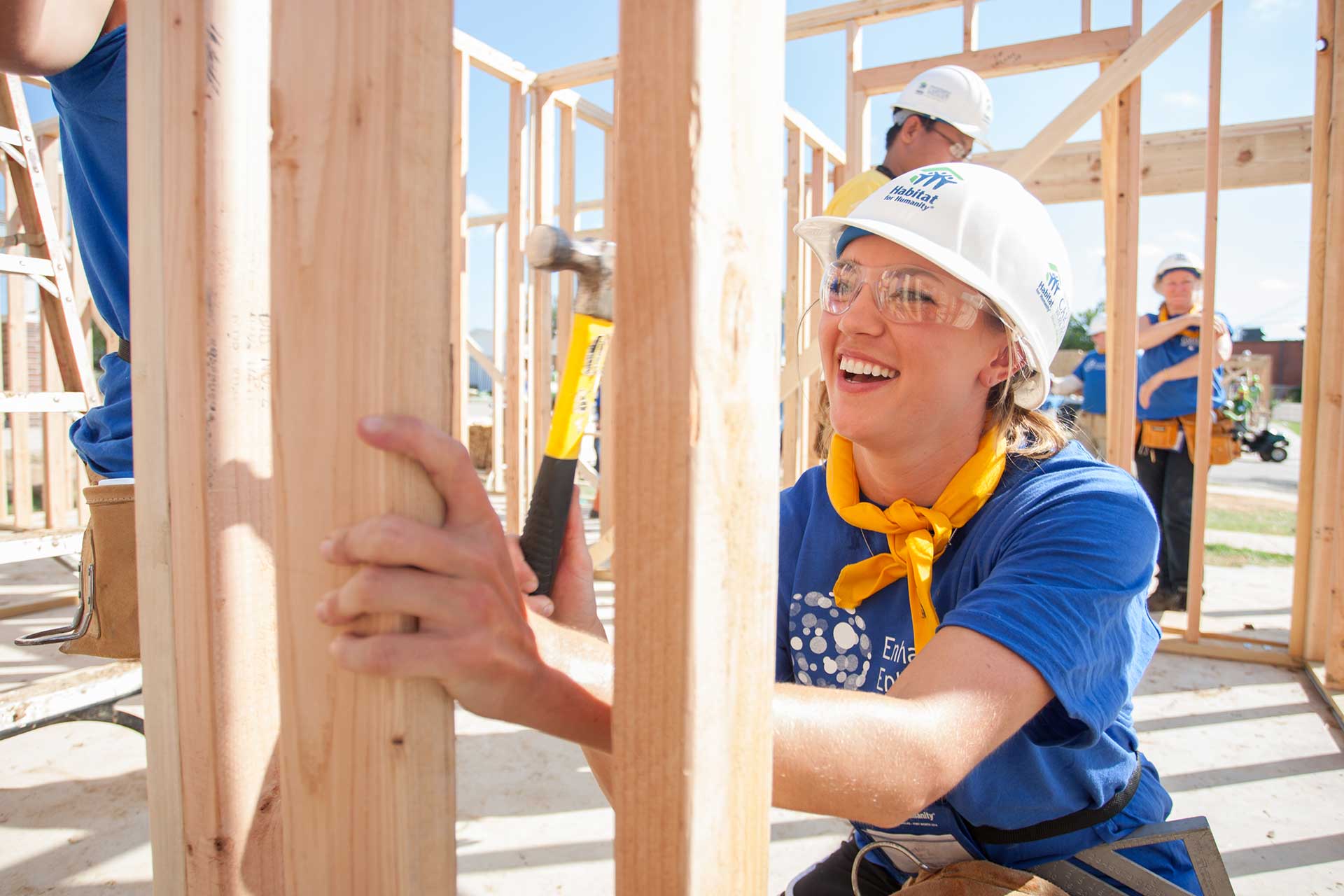 Volunteer with Habitat for Humanity today, help change a family's tomorrow.
Be a Construction Volunteer
While home construction and renovation isn't the only way to serve at Habitat, it is a big part of what we do. Volunteering on a Habitat worksite is perfect for those who want to get their hands dirty—and it's great for team-building, too!
Volunteer at ReStore
ReStore is a key part of how Habitat builds and renovates homes with families and individuals who need decent, affordable housing. ReStore is perfect for those who enjoy being creative with retail and helpful to customers. Volunteer at ReStore today.
Something for Everyone
There is no shortage of volunteer opportunities at Habitat, so whatever your passion and skill set, you can join us in impacting communities. Read on to learn about some of the ways you can make a big difference—no experience required.
Build and improve homes, and help families build and improve their futures.
When you volunteer in construction, you'll see changes in the house, changes in the surrounding neighborhood, and changes within yourself. If that sounds like a great way to spend a day (or two, or three), we'd love to talk with you about how to volunteer with Habitat for Humanity East Central Ohio.
We welcome individual volunteers, as well as groups of all kinds. Spending a day or even a few hours helping others can be a great team-building activity for a group from your workplace, church, family, club, or civic organization. And volunteering isn't just good for others—as it turns out, it's pretty healthy for you also. Who knew?
Family Support
Family support volunteers work directly with future homeowners, helping them in a variety of ways throughout their journey.
Hospitality
Hospitality volunteers provide snacks or lunches for our construction sites, as well as dedications and other special events.
Office Support
Office support volunteers help keep the Habitat ministry running smoothly by assisting with filing, bulk mailings, and special events.
Make a lasting difference in your community, no hammer required.
If you're eager to help at Habitat for Humanity but would rather not swing a hammer, we want you to know that there are still many places you can invest and more opportunities to serve—all of them vitally important to providing safe, stable housing for those who need it.
Here are just a few of the opportunities to serve and invest in a brighter future for local families – but talk with us if you're unsure how you might be able to volunteer with Habitat for Humanity East Central Ohio. If you're ready to begin, click below to open and complete our online Volunteer Profile.
Have a question or want to get your group involved?
Photo © Gregg Pachkowski/Habitat for Humanity International