We're bringing people together to build homes, communities, and hope.
Each and every day, people all over the world partner with Habitat for Humanity to offer families strength, stability, and self-reliance through shelter. Through this partnership, each family has the opportunity to build and purchase their own decent home with an affordable zero-interest mortgage.
When hard-working families are surrounded and supported by determined volunteers and generous donors, a future full of opportunity is built. Here's how Habitat works.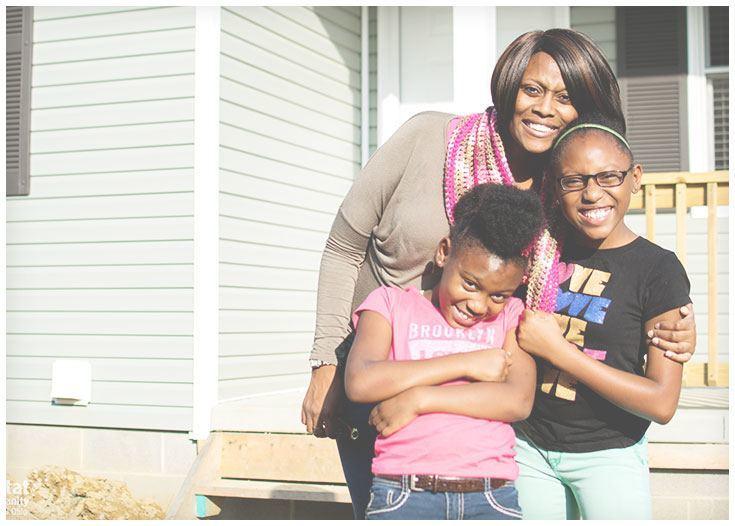 one
the partnership begins
Habitat for Humanity partners with individuals and families to help them achieve strength, stability, and self-reliance through shelter. Families must be currently living in substandard housing, have a steady income, and be willing to partner with Habitat. Learn more about homeownership.
Land for a family's future home is donated to or purchased by Habitat. Habitat also renovates existing homes that are donated or purchased to create safe housing through the Preserve-A-Home program. Would you like to make a tax-deductible land or property donation? Contact us today.
three
resources are secured
Sponsors and donors contribute financial resources that allow Habitat to secure the required materials and services to build or renovate each home. Businesses and organizations also donate their materials and services as a tax-deductible gift-in-kind. Contact us to learn more.
four
future homeowners prepare
Future homeowners progress through the Habitat partnership by completing sweat equity hours. This includes building their home and the homes of other families, participating in Homeowner Maintenance Education (HOME), completing financial literacy courses, and much more. Learn more about sweat equity.
five
the home is built or renovated
Volunteers contribute their time to build or renovate the home. During their worksite time with Habitat, they'll work with future homeowners and Habitat site supervisors – no previous experience or skill required. Volunteers are the heart of Habitat for Humanity! Learn more about volunteering with Habitat.
Once all of the partnership requirements have been met and the home construction or renovation is complete, the home is sold to the deserving family with a long term, zero interest mortgage. The family or individual now owns a safe, decent, and affordable home.
As current Habitat homeowners make payments on their zero interest mortgage, they are helping to fund the construction and renovation of additional homes with other low-income families. Every Habitat for Humanity home, whether new or renovated, has some funding from homeowner house payments and proceeds from Habitat for Humanity ReStore.
How Families Qualify
To be eligible to purchase a Habitat home, potential homeowners must meet three areas of qualification:
Ability to Pay
Habitat homes are not given away. They are sold to partner families with a zero-interest mortgage. Each family must demonstrate steady income.
Need for Decent, Affordable Housing
A family must be currently living in sub-standard housing. Habitat works each day to eliminate poverty housing in the local community.
Willingness to Partner
A family must have the willingness to partner with Habitat by investing Sweat Equity in their home and the homes of other partner families.
How Communities Benefit
When the people of a community are strengthened, the whole community is improved.
Creates Property Tax Payers
Connects People Directly to Those They Are Helping
Allows God's People to Put Their Faith to Work
Develops Team-Building Skills
Creates a Sense of Community
Improves an Area's Homeownership Base
Overcomes Urban and Rural Blight
Every hand can make a difference with Habitat for Humanity. Whatever your skill set, stage of life, or passion, there is a place for you here.
Every gift creates the opportunity to build a better life. When you make a donation, you're building the foundation of a family's bright future.
Every one of us deserves a decent and affordable place to call home. We partner with hard-working families to offer a hand up, not a hand out.